Bond Newsletter July 2019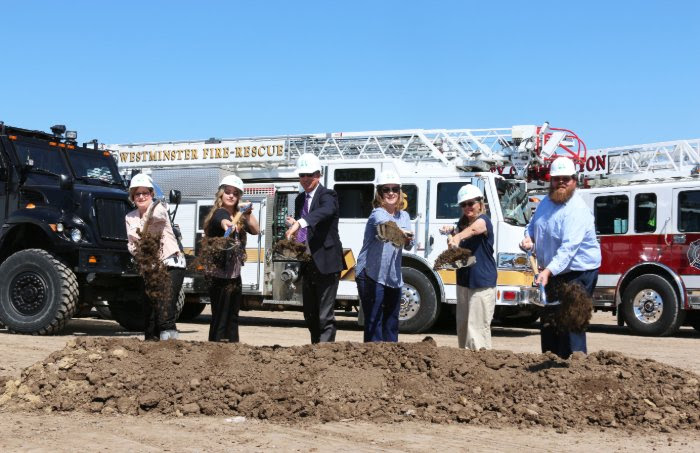 Attendees at the July 23 FutureForward at Washington Square campus groundbreaking shovel dirt to signify the start of construction. From left, City of Mayor Thornton Heidi Williams, Five Star Schools Graduate Kaylea Beck, Superintendent Chris Gdowski, Adams 12 CAN President Maura Devine, Board of Education President Kathy Plomer and Cummins Rocky Mountain General Manager James Tulloch.
Five Star Schools staff, community break ground on new career education campus
---
With major construction now complete at STEM Lab in Northglenn, the race is on to ready the building to first welcome back staff and then students in August.
Contractors received a Temporary Certificate of Occupancy permit in mid-July, clearing the way for staff to occupy the recently completed portion of the building as final inspections take place.
---
An unprecedented amount of bond construction work is beginning to wind down across the Five Star District as the focus turns to preparing schools to welcome back students in August.
More than $90 million in bond improvements have taken place at more than 30 schools and facilities in Summer 2019 from upgrades to building systems to interior building renovations to playground improvements.
First Day of 2019-20 School Year
Wednesday, Aug. 14, 2019
Recent News
Improvements to continue at district schools, facilities
Summer 2020 will be another busy season of bond work in the Five Star District with 20 projects planned at schools and facilities across the district.
While the presence of the Coronavirus has brought unfortunate impacts - including the abrupt end of in-person student learning for the 2019-2020 school year, it has allowed for some projects to get a slightly earlier start.
...
Work on new facility moves ahead with focus on health requirements
Despite the changes and challenges of the past few months and with an eye toward health and safety, construction has been able to steadily move forward.
Work has included the installation of the building roof, exterior framing work and continued interior work. The work has been able to move forward at a steady space even as construction workers on site follow new health precautions ...