Bond Newsletter - May 2018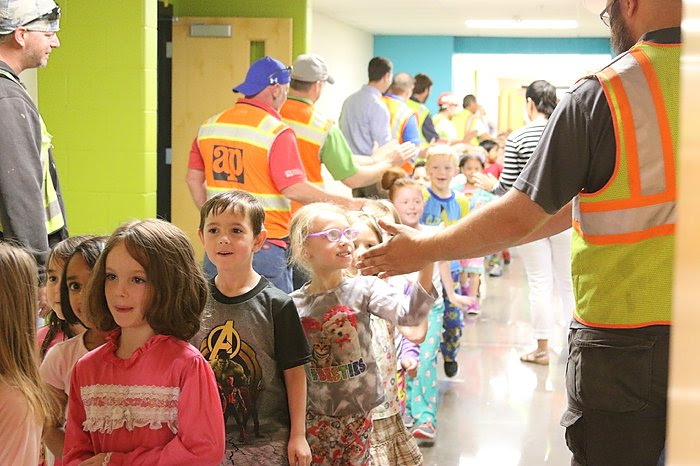 STEM Lab students, staff celebrate partial completion of construction as work shifts to new phase
---
There are big changes headed to the Northglenn High School cafeteria this summer, both in terms of look and food service. The kitchen and cafeteria will undergo more than $1 million in renovations as part of the 2016 Bond Program.
The planned improvements have been a long-envisioned collaborative planning process between the Five Star Schools Nutrition Services Department and the Northglenn High School administrative leadership team to transition the school from a DECA-run program to the National School Lunch Program.
---
Playgrounds are in place, the school logo is now at the center of the school's gym floor and windows line the walls of the bright and airy school library space.
After more than a year of construction, contractors say they are in "the home stretch" of construction on the new, 142,000-square-foot school in Broomfield.
---
April was a milestone month for students, parents and community members eager to see the expansion of Cotton Creek Elementary in Westminster move out of architectural sketches and into reality.
By the end of the month, a large portion of structural steel was in place giving a street-level view of the two-floor, 14,000 square-foot expansion of the 38-year-old building.
---
Coffee with the Thunder Vista P-8 Principal
9 to 10 a.m., Friday, June 8, 2018
Parkside Community Center, Broomfield
Recent News
New CTE campus expected to open in 2020-21 school year
Construction on the FutureForward at Washington Square took a large, visible step forward in November.
The 67 massive, pre-cast concrete panels for the high-bay learning spaces that will house diesel automotive, welding and construction programs were installed throughout the month of November. Construction in the month of December will included the pouring of concrete slabs and the ...
Project expected to be completed in Spring 2020
Construction of the main backbone for a new fiber network for the Five Star School District is more than halfway complete and on schedule for a Spring 2020 completion.
Construction work on the district's School Connectivity Project - a new district-wide dark fiber network identified as part of the 2016 Bond Program - began in August 2018. Dark fiber refers to a ...